12H Sebring : Unrealised potential for Muscle Milk Pickett Racing …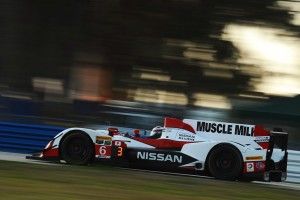 As expected, the Muscle Milk Pickett Racing ORECA 03 was one of the principal players in the 12 Hours of Sebring, second round of the Tudor United Sports Car Championship. The American team even led the race at the two-hour mark, but a mechanical issue kept the team from showing its true potential. Klaus Graf, Lucas Luhr and Jann Mardenborough were unable to finish.
« We are still early in our program and we showed positive signs of our potential, » explains Brandon Fry, team manager. «  We had a few mechanical issues and we were unable to realize this potential. At Daytona, keeping in mind how young the program was we survived and finished the event. Here, we had a better background and we were truly competitive, even leading the race. So we are logically disappointed. But there are some positive signs, and we are going to put our heads down and work hard for next time. Our goal will be to win at Long Beach. We've won there before, and several of our competitors don't know that circuit. It will be very different and we have a good track record there. »
Starting from fifth on the grid, Muscle Milk Pickett Racing took a careful start, Lucas Luhr sliding into the ninth position in order to avoid any contact. The German driver then moved forward following the first safety car period after 20 minutes of racing. Running fifth as the green flag waved, Lucas Luhr reached third place overall, then second.
As Klaus Graf took over driving duties following a perfectly managed pit stop, the black and white ORECA 03 took the lead at the end of the second hour. Unsatisfied with simply leading, Graf continued to widen the gap up to 20 seconds before another yellow flag waved. Running in second after another round of pit stops, he was forced to return to the pits for a drive-through penalty due to speeding on pitlane.
Still on the lead lap, Muscle Milk Pickett Racing maintained its position in the top 10 following the setback. The No. 6 was gaining time  and positions but in the middle of the fifth hour, the car was pushed to the paddock area following a transmission problem. Following repairs lasting about 40 minutes, Jann Mardenborough rejoined the action with a 14 lap deficit and running 15th in class.
As the three drivers took turns at the wheel of the ORECA 03 while adopting a quick pace, Jann Mardenborough, Lucas Luhr and Klaus Graf were little by little working their way up the running order. As the hours continued to be clocked, they managed to reach 12th in class. But the trio were forced to retire with less than two hours to go with power steering issues.