A first win for Graff Racing in LMP2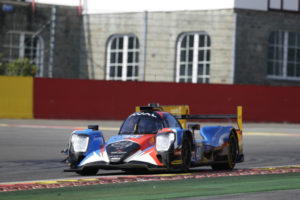 At the 4 Hours of Spa-Francorchamps, Graff Racing saw the fruition of the work it had achieved over the course of this season. For its first campaign in the LMP2 class, in the wake of a strategic race, the French team scored its first win with the #40 ORECA 07 driven by Bradley-Allen-Yacaman. G-Drive Racing by DragonSpeed's #22 ORECA 07 solidified its position as championship leader with second place, the #21 sister car reached the top 5 and Graff Racing's #39 car finished sixth.
A highly intense race
The ORECA 07s led an exemplary qualifying session, snatching the top three spots on the starting grid for the #21, #22 and #39, with the #40 close behind in fifth position. A shift took place as early as the first lap with the leading trio losing its advantage, the #22 second followed by the #39 – which quickly incurred a flat tyre – but the #21 fell back to eighth position and the #40 to 10th.
After a yellow flag, G-Drive Racing by DragonSpeed grabbed the lead and Yacaman pulled off an excellent stint at the wheel of the #40, bringing the car into the top 5.
An hour into the race, the deployment of the safety car switched things up once again and caused strategies to be adjusted. The #40 increased its momentum, taking the third then second spot. Little by little the #39 climbed through the field, while the #21 and #22 held the ninth and sixth spots respectively, the result of different pit stop strategies.
At the top of the third hour, James Allen took the lead with the #40, the #22 climbed to fourth and the #39 slipped into the top 5.
For DragonSpeed, Ryo Hyrakawa took the wheel of the #22 and Nicolas Lapierre the #21. The Japanese driver secured the fourth spot, and after a stunning stint, the Frenchman settled into fifth position, which he held through the checkered flag.
One hour from the finish line, Graff Racing executed a driver change. Richard Bradley replaced James Allen in the #40 and set out to keep the lead while Ryo Hyrakawa and #22 grabbed second position. In the final minutes, both the lead car and the #22 incurred drive-through penalties. That did not affect the order of the field, so Richard Bradley reached the top step on the class podium, providing Graff with a much-deserved first win in LMP2. After a season focused on learning and making progress, the French team proved in the Belgian Ardennes mountains that it is the one to watch in the race to victory.
As the season finale at Portimão approaches next month, the competition is more brutal than ever within the ORECA squadron. The #22 ORECA 07 still holds the top spot in the overall standings and now boasts an 18-point lead.