The FIA has chosen ORECA Group as supplier of R4-Kits !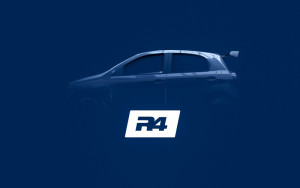 Following on an invitation to tender, the FIA has appointed ORECA Group as official and exclusive supplier of FIA R4-Kits Rally Cars for the three upcoming seasons.
As part of the latest World Motor Sport Council, the FIA has approved a new homologation for four-wheel-drive cars with the approval of R4-kit technical regulations. Dedicated for both national and regional FIA championships, this kit has been designed around a new approach, making the R4 class more dynamic. ORECA Group has been commissioned to become the official and exclusive supplier of this kit which will be introduced in the 2017 season.
A new positioning in rallying, everywhere around the world and for all!
The FIA R4-kit is universal. First, it can adapt to all types of production vehicle, offering contenders a wide range of possibilities, with a potential implication of brands and/or importers. Also, in addition to the diversity of models, it is possible to enter many different championships, whether national or continental, driving on any surface, whether gravel or asphalt. Finally, the R4-kit is spec but also open: though the base and regulations are shared worldwide, there is still lots of room for tuners to apply and demonstrate their know-how and bring true added value.
Between R5 and R3, a top class at a moderate cost…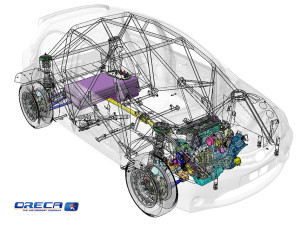 With its four-wheel drive and 1.6L Turbo, the R4-kit meets an existing request from teams and drivers wishing to compete at a very specific level: in between R5 and R3 classes. With cars which will be inferior to R5 but clearly delivering higher performances than R3, the R4 class is very attractive. This is all the more true as the R4-kit will allow to provide ready-to-race cars, at a very competitive price, and which will be very cost-effective in terms of operating expenditure.
Developed in order to get the best performance/cost/reliability ratio possible, the R4-kit includes – amongst other things: engine and its components, transmission, axles and braking systems. A number of other equipment and accessories remain flexible. Enough for tuners and teams to recover their full roles in the world of rallying.
ORECA Technology Director, David Floury: "With our experience in rallying, including as part of WRC-2 and WRC-3 most recent seasons, we have a good view of the different cars' performances and characteristics. That has enabled us to design a R4-kit which can fill an actual gap in the current rallying scene, namely at a level just under the R5 class but significantly higher than the R3. Thanks to our different entries as a team, we are also aware of what's needed in terms of operations and thus reliability. The R4-kit is an interesting study with a clear request and we're bringing our know-how to the table in engineering but also as engine manufacturer with our engine department in Magny-Cours, as well as our expertise in terms of customer-teams. It's a comprehensive offer."
ORECA Group President, Hugues de Chaunac: "After having been selected amongst the four LM P2 manufacturers in Endurance, ORECA has undertaken a new international programme. We want to thank the FIA for this nomination and for entrusting us with this project which is really exciting, not only in terms of its technical aspect but also as regard to the potential for development in the different regions of the world. ORECA group has always been involved in rallying, whether through its engine department which has met success at all levels, or via its activity as distributor of parts and accessories. We've been gearing up for several months now and we're now looking forward to take to the track."   
The R4-kits will be available at the beginning of the 2017 summer.