1973 – 2013 : ORECA celebrates 40 years of thrills in 2013 !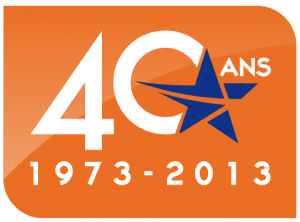 In 2013, the ORECA Group will be blowing out 40 candles. Forty years of existence dedicated to the passion of motor sport and leisure. Forty years of thrills for its four departments : Racing, Technology, Store and Events. It has been a unique path with a competition record composed of more than 350 wins and 40 national and international titles. 2013 is most certainly a very special year for ORECA !
« The time has passed so quickly and ORECA has grown so much since its beginnings » admits Hugues de Chaunac, president of Group ORECA. « I couldn't have imagined such a adventure when I created the company 40 years ago, but I'm a man who loves challenges and those have allowed ORECA to develop and diversify. With this motivated, passionated and determined group of people, there are still such wonderful things to accomplish and such great stories to write. »
For 2013, anniversary events are the theme !
To celebrate these 40 years, several events are prepared. Rendez vous each week on ORECA's Facebook page for retrospectives and original games. In addition, Grand Prix magazine will take a look back at the history of the company in a six-part « flashback » series. Along the same lines, a book tracing the first 40 years of ORECA will be published and available in time for the 24 Hours of Le Mans. For their part, Oreca-Store.com will offer a « roaring forties » promotion : a unique promotion that will see customers benefit from exceptional price reductions on a selection of 40 items.
40 years of challenges and victories
Founded by Hugues de Chaunac, ORECA (ORganisation Exploitation Compétition Automobile) shined in competition, it's raison d'être. The ORECA Team tasted success in all disciplines : single-seaters with titles in the French and European F2 and F3 championships. And also in rallying with national, European and international (J-WRC 2004). At ORECA, success has come in off beat events as well : success in the Pharaons Rally (1990), Trophée Andros (1995-1996 and 1996-1997) and on circuits, where ORECA has won in super touring and at the pinnacle of the discipline (WTCC 2008). But it's endurance racing that holds a special place in the hearts of the team : victory in the 24 Hours of Le Mans alonside Mazda (1991), the Viper era with numerous successes including the 24 Hours of Daytona (2000) – still the only French team to win on the fabled oval – and the triumph that was the 12 Hours of Sebring (2011) with a French car and driving squad – a performance also never matched. Today, as Toyota Motorsport GmbH partners, ORECA brings its operational support to the Japanese marque's LMP1 Le Mans project.
ORECA is above all comprised of men and women. They are a passionate group revolving around Hugues de Chaunac, but also they are drivers, either discovered or confirmed by the team, who are among the greatest : Jacques Laffite, Didier Pironi, René Arnoux, Alain Prost, Yannick Dalmas, Jean Alesi, Jacky Ickx, Hubert Auriol, Yvan Muller, Olivier Beretta, Stéphane Sarrazin, Simon Jean-Joseph, Stéphane Ortelli, Olivier Panis, Nicolas Lapierre, Loïc Duval and many others.
« The Motorsport Company », the result of continued progress…
Alongside its competition sector, ORECA has diversified its activities. Next to Oreca Racing, Oreca Technology is comprised of a top Research & Development department, a constructors department – out of which the ORECA 03 has become the flagship for the World Endurance Championship – and an engine preparation department, one of the top in Europe based at Magny-Cours. Oreca-Store.com has become the leader in multi-channel sales of equipment and accessories dedicated to motor sport and leisure. Finally, Oreca Events is today a reknowned events agency that has been aiding sponsors, brands and manufacturers. Always in search of a new challenge, ORECA has also become a championship promoter and operator of the Driving Center, a leisure track that will be based at the Paul Ricard circuit starting in May. Based in the Var region of France, the group has also shined on the international scene with the development of new ventures abroad that make 2013 an exciting year in prospect.
Check us out in the next weeks and months as we celebrate the 40 year anniversary of the ORECA Group and discover many surprises along the way.