4 Hours of Le Castellet: Three ORECAs on the podium, Racing Engineering on the highest step!
European Le Mans Series's first round was taking place yesterday at the Paul Ricard Circuit in Le Castellet. After a thrilling race, ORECA chassis once again showed competitiveness. For their first race on board the ORECA 07, Spanish team Racing Engineering and crew Pla/Nato/Petit clinched a win. TDS Racing's and Duqueine Engineering's ORECA 07s followed on the podium.
ORECA 07s always in front
Over the last ten days, ORECA chassis have kept on taking to the Paul Ricard Circuit track. As part of FIA World Endurance Championship's prologue but also European Le Mans Series, before a first weekend race. From the first practice sessions on Friday, ORECA chassis stood out, with best time posted by DragonSpeed.
On Saturday, during the qualifying, the ten entered ORECA 07s delivered fantastic performances. Pole position for IDEC Sport Racing's No. 28 car, with TDS Racing was just behind them. ORECA chassis were then ranked in fourth to sixth places.
At midday yesterday, under South of France's beautiful sunshine, the starting lights turned green and the ELMS season's opening race was launched, promising to be exciting. With no less than 45 cars entered – over a third of which in the LM P2 class – there was a tense start considering the traffic involved.
Very early on during the first lap positions shuffled. Having started in third place, Nicolas Lapierre and DragonSpeed's No. 21 car caught up to get in the lead and stayed there until the end of his stint, whereas François Perrodo on board TDS Racing's No. 33 car tumbled from the 2nd to the 13th place following on a contact with another contender. Meanwhile, Norman Nato driving Racing Engineering's No. 24 car was following on Memo Rojas's heels, in second place with IDEC Sport Racing's No. 28 car. Several laps later the French driver eventually managed to overtake his Mexican fellow.
One hour in and Nicolas Lapierre was still in the lead, followed by Norman Nato and André Negrao's A470 Alpine which came back within the leading trio before changing driver and letting Pierre Thiriet take over. Bearing in mind that Negrao and Thiriet had entered this race together, as a duo.
As for G-Drive Racing's No. 40 car and Team Duqueine Engineering's No. 28, they battled for the fourth and sixth places.
During the second hour, the No. 21 ORECA 07 – with Henrik Hedman behind the wheel at the time – had to withdraw after a crash with another contender. This opened new opportunities. Pierre Thiriet took the lead with Alpine. Yet, just behind him, on board the No. 24, Olivier Pla would soon manage to overtake and claim the first position, thanks to incisive and sharp driving. Duqueine Engineering secured a third place which was gained stint after stint, thanks to a flawless performance delivered by trio Pansiatici/Jamin/Ragues. TDS Racing caught up sensationally and reached the second place while Alpine moved down in the standings and passed under the checkered flag in fifth position.
Despite several punctures that prevented them from realising their potential, Graff Racing and Algarve Pro Racing did still show very good speed.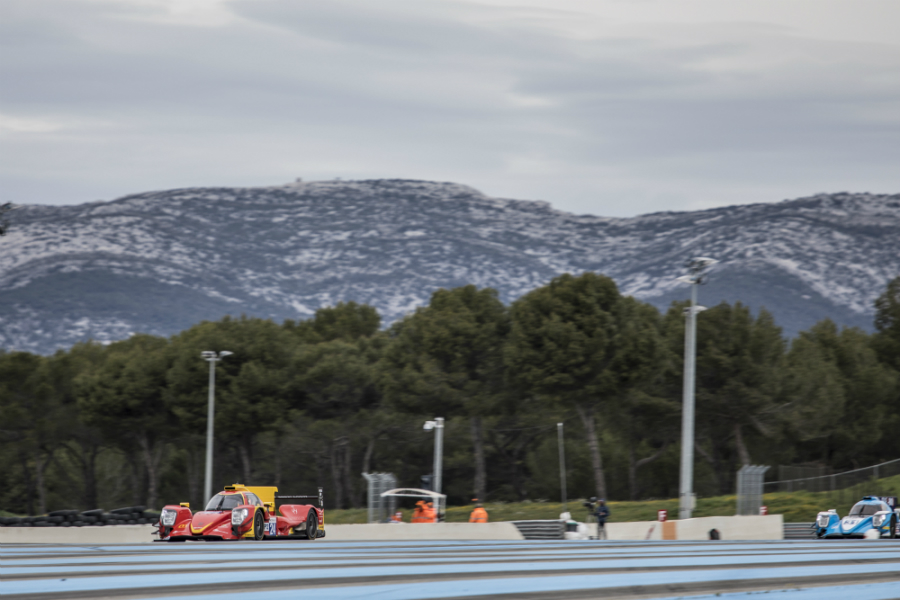 Racing Engineering Team Principal, Alfonso de Orléans: "I'm really glad. All our expectations of the car were totally met. Endurance races aren't easy, we're aware of that, and there's a lot of pressure up to the very last metres. Our engineers were really satisfied with the car, we're still getting familiar with it, but for sure this is a reliable and consistent car. Everything's going according to plan. Paul, Norman and Olivier are our three musketeers, they get on well together and do a great job with the team. This win is a great achievement, but even if we hadn't won, for sure we wouldn't have blamed it on the car."