Colin Braun : « Keep digging and keep getting better »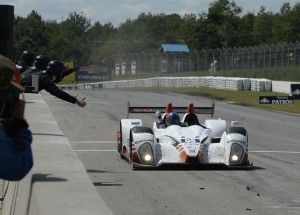 Winner of the last round of the American Le Mans Series, at Mosport, CORE autosport recovered the first place of the LM PC class at the Team championship. Partner with the team owner Jon Bennett at the wheel of the ORECA-FLM 09 n°05, Colin Braun also took the lead of the drivers ranking. If his team is two-time defending champion, the American has not been crowned yet. At only 24 years, he has many experiences, both in Grand-Am (Daytona Prototypes and GT), in Nascar series or also at the 24 hours of Le Mans, where he became the youngestdriver to be on the GT podium in 2006. While the mid-season has been reached, Colin Braun takes stock: the season, the PC category but also CORE autosport, a team close to his heart.
After Mosport, it is the half-season point for ALMS. What is your feeling on the first part of 2013 ?
"We're in a good position. We have a very strong race car and we've been working hard to figure out the new Continental tire. It seems like the last two races we've had a really fast race car and when you have a fast race car it makes things a lot easier. We have the opportunity to try some things in practice that we normally couldn't try because our car is pretty dialed in right now."
You are in the fight for the title in PC class. How do you judge the level this year and how is it to race in this category ?
"I think everybody stepped up this year. CORE autosport has won the team championship the last two years and that puts a big bullseye on our backs. Everyone wants to beat us and when you do, you've accomplished something. I think that raises everyone's game at CORE autosport. We're trying harder than ever to stay on top and continue to be competitive.
"It's always been a tough class. The cars are so similar and equal by the rules and the way they come from ORECA that it makes for ultra-competitive, close, tight racing, and that's one of the reasons I love racing in the PC class in ALMS."
You are young but have a lot of different experiences. What do you think about the PC ORECA-FLM car ?
"It's one of my favorite cars to drive. It's got a great balance of power versus down force, versus tire grip. It's a fun car to drive. You can slide it around a little bit, but at the same time you have to be precise. It does everything that we as drivers want to have in a race car. Certainly, when you have one that's setup really well, like we have at CORE autosport, it makes it really fun to drive."
Can you describe how is CORE autosport ? How the team is working ? How is the atmosphere in the team ?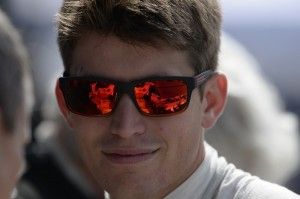 "CORE autosport has grown a lot in the last couple years. It started as a relatively small team in the IMSA Lites category and it built its way up to one of the premier privateer teams in ALMS. It's very well run and well organized. We have a lot of structure. We have a lot of consistency in the mechanics, engineers and all the people involved. The organization is very well-rounded and it's one of the most put together teams that I've had the opportunity to drive for."
CORE autosport is a back-to-back champion. How do you (they) find the motivation to still fighting ?
"I think it starts from the top. Jon Bennett, our team owner, and Morgan Brady, our team manager, are both very competitive guys. They both instill that in the environment at CORE autosport. We're always looking for constant improvement and we push each other to get better and work hard. We try to continually get better every time we're on the race track. If that's good enough to win by a large margin, great, if that's only good enough for second, then we have to put our heads down and keep working. That's the mentality from the top down: keep digging, keep working and keep getting better. "
What is wish for the future, including with CORE autosport ?
"Like I said before, CORE autosport is one of the best teams I've had the opportunity to drive for. I really enjoy all the people there from the mechanics, to the truck drivers, to the manager and the owner. I really have a home with CORE autosport and I'd love to stay here and continue to drive for them as long as I can in whatever they're doing. It's rare when you get to drive for a team that has the same mindset and goals as I do."