ELMS : Positive tests for Team Endurance Challenge !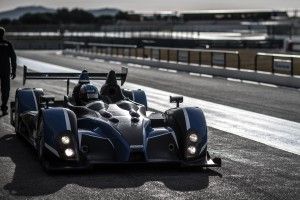 Based on the concept « Arrive and Drive » made by ORECA – proposing an all-inclusive package to run in the European Le Mans Series – Team Endurance Challenge completed two days of tests last week at the Paul Ricard circuit. Two days during which 25 drivers came to discover a true Le Mans Prototype, the ORECA-FLM 09.
Nicolas Minassian helps out the « rookies »
« These were very positive tests » explains Nicolas Minassian, the program's mentor. « The cars are directly run by ORECA so I wasn't surprised by the excellent level of preparation. Several drivers were present and I must say that I was impressed by the overall level, both from the younger drivers coming from single-seaters and also from gentlemen drivers who were discovering this type of car. Everyone got out of the driver's seat with a large smile on their faces, and to me that's an important point. I took time to follow each driver, so that I could determine their progress. They were all attentive and to see them improve lap after lap was a real satisfaction. I very much enjoyed the experience and I'm certain this will be the case during the rest of the season where I will be following Team Endurance Challenge attentively. »
En route to Le Mans !
With a turn-key package, « Arrive and Drive » made by ORECA allows drivers coming from all walks of life to participate in five European Le Mans Series rounds in a Le Mans Prototype entered in the LMPC class. Composed entirely of ORECA team members, Team Endurance Challenge benefits directly from the experience of a team that has won the biggest races. Through this program, ORECA hopes to give each driver a chance to take their first steps at the highest level of endurance racing with never before seen support. It's also a first step to the 24 Hours of Le Mans that several talented drivers have taken previously : Mathias Beche became ELMS champion last year, Dominik Kraihamer competed in the entire FIA World Endurance Championship in 2012, as well as Ricardo Gonzalez, while Eric Lux tasted the fruits of victory in the ALMS…
Margot Laffite : « the purest form of driving… »
Like many others, Margot Laffite – regular competitor in the Mégane Trophy who had never driven a Le Mans Prototype – appreciated this new experience. « What a sensation! This car, it's the purest form of driving that I've ever felt » she admits. « Honestly, I didn't think that prototypes were right for me. And then…this was just perfect ! It's both extraordinary in terms of sensations, but also completely accessible. Until recently, I never thought this possible. It's a fantastic school with a car that's easy to come to grips with. What's most impressive to me is the downforce. You can brake late and accelerate early….I only have one desire : get back behind the wheel ! I think this is a very good program because it's good for both young drivers and gentlemen drivers. »
Entered in the European Le Mans Series LMPC class, Team Endurance Challenge will announce its first drivers in the coming days. Discussions are currently underway for the ORECA-FLM 09s that will be on the grid.
For more information, contact Alexandre Gibot : +33 (0) 494 885 736 – agibot@oreca.fr