This end of year is all about competition for ORECA Group
ORECA Group is going to be busy this November. For this end of the season, the French company will once again be active all over the world. First of all in the FIA WEC, with the 6 Hours of Shanghai which took place yesterday – final race in Bahrain in two weeks . But also in the WRX with the final round in South Africa this weekend. Here is a summary of what will be going on…
Last cards to play in FIA WEC
This weekend, the ORECA delegation was in China as part of the 6 Hours of Shanghai. One round away from the great final, all LM P2 teams tried to play their last cards in order to get in the best places in the standings. Once again, team Vaillante Rebellion met success and won with the No. 31 ORECA 07. Right from the qualifying, their prototype got in pole position, followed by G-Drive Racing's No. 26 prototype and Vaillante Rebellion's No. 13 car. Crew Senna/Prost/Canal delivered a flawless performance and went on clinching their second win back to back, third one in 2017.
Team Signatech-Alpine-Matmut and their No. 36 chassis started from the fifth place and raced without making a single mistake, following a strategy based on limiting fuel consumption and tyre wear. They crossed the finish line in second place, achieving their fifth podium in a row, and securing their third place overall.
With Vaillante Rebellion's new win, Signatech-Alpine-Matmut's great consistency, and former leader Jackie Chan DC Racing's fourth place, the final race of the season in Bahrain, on November 18th, promises to be hotly contested. These three teams are still in running for the title.
As for LM P1s, Toyota Gazoo Racing – with ORECA's operational support – have kept the momentum going after great results achieved at home, as part of the 6 Hours of Fuji. In Shanghai, the Japanese team clearly dominated , clinching the pole position which later turned into a win for the No. 8 Toyota TS050.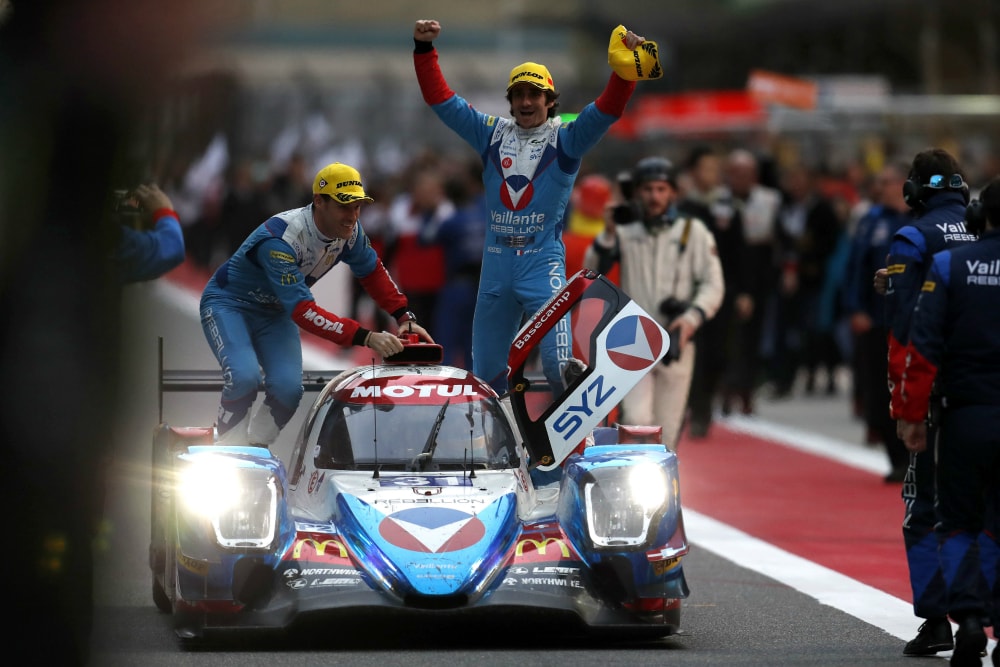 ORECA 05 returns
While the ORECA 07 has clinched its first title in the European Le Mans Series and continues to race hard in the FIA WEC, its big sister the ORECA 05 has also come back to the track. Entered by Jackie Chan DC Racing by Jota Sport, this prototype which did win the 24 Hours of Le Mans just a few months after its first shakedowns is now returning to the competition as part of the Asian Le Mans Series.
For the 4 Hours of Zhuhai, the car, entrusted to young French driver Thomas Laurent, rookie Harrison Newey and experienced contender Stéphane Richelmi, has won the inaugural race of the season. Next round, Fuji!
Getting ready for 2018 US campaign
In Uncle Sam's country, teams are getting ready for the 2018 campaign. Last week, CORE autosport received the ORECA 07 that they will be racing with in LM P2 class. Major contender in LM PC, the squad will participate in the IMSA practice sessions in order to prepare for the season, alongside JDC Miller Motorsport and Team Penske that will both enter two Dpi Acura ARX-05 prototypes.
Last challenges in WRX
For the engine department based in Magny-Cours, November is also a busy month. With Team Peugeot-Hansen's 208 WRX cars, which are equipped with ORECA engines, Sébastien Loeb and Timmy Hansen have only one clear objective in mind: to have one last flawless race in South Africa this weekend in order to strengthen their second place overall.
So, lots of challenges ahead for ORECA Group before the season comes to an end. Let's keep a close eye on what happens…