First rally in France and first success for the R4 kit
This weekend at Rally Terre des Causses, first round of the French Rally Championship 2019, Vincent Dubert and Alexandre Coria, accompanied by Team Milano Racing, released the Fiat MR 500X R4 FIA. Author of an intelligent race, the crew has a superb eighth place overall with the R4 kit developed and distributed by ORECA.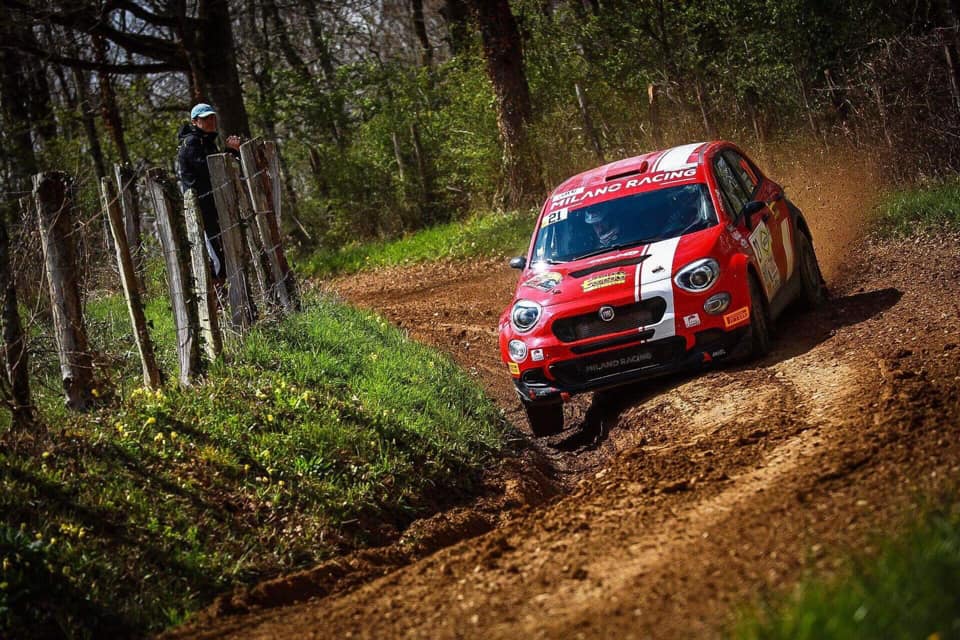 Contract fully fulfilled for Vincent and Alexandre who were making their first public laps at the wheel of the Fiat MR 500X R4 FIA and who managed to reach the arrival of a particularly demanding rally totaling more than 150 kilometers. Faced with three WRC and 17 R5 at the start, the duo led a smart race, mixed attack and rigor, allowing them to constantly improve their time and hang a top 10.
Team Milano-Racing : « Seeing our car evolve for the first time, and achieve such performance after a year and a half of work, it is a great satisfaction. Being the first to drive a car, which is in a new category, is never easy. Our Fiat 500X R4 worked perfectly this weekend, Vincent and Alexandre took a lot of fun, and showed that the R4 Kit is very powerful. By signing times to 1s / km from the head in some specials, we have shown the full potential of this new category and our car. »
Vincent Dubert : « For a first time, it was difficult to do better. It took me to get my bearings with the car and the Team but everything went very well. We managed to adapt the setup of the car to my driving. The agreement with Team Milano Racing, supported by ORECA, PKM Consulting and Pirelli, was perfect. This new category is just awesome, we can not wait to start from Terre de Castine (May 3-5). »
Classement final
1.Durbec/Renucci (DS 3 WRC) en 1h30m30s2
2.Rossel/Fulcrand (Citroën C3 R5) + 1m24s0
3.Baud/Baud (DS 3 WRC) + 1m59s2
4.Tirabassi/Declerck (Hyundai i20 R5) + 2m39s4
5.Baudoin/Letourneau (Citroën C3 R5) + 3m16s5
6.Amourette/Gauduin (Peugeot 208T16 R5) + 4m05s6
7.Margaillan/Margaillan (Skoda Fabia R5) + 5m02s6
8.Dubert/Coria (Fiat MR 500X R4) + 5m27s4
9.Mordacq/Vauclare (Mitsubishi Lancer Evo9 N4) + 6m28s8
10.Dinkel/Furst (Hyundai i20 R5) + 7m21s9…