Le Mans Addict, Hugues de Chaunac : "A madness moment with the Peugeot 908 HDi FAP"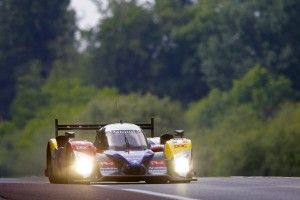 "2010 was the third year of our "Défi Le Mans". After a top 10 with the Courage-Oreca in 2008, and a top 5 with the ORECA 01 in 2009, we knew we had to make it with a diesel engine prototype to do better. We so decided to run a Peugeot 908 HDi FAP by the ORECA 01 sides. The goal was clear: be in the game with two factory effort from Audi and Peugeot. To that, we had a very good driver lineup with Olivier Panis, Nicolas Lapierre and Loïc Duval, and we worked hard to be at the same level as the factories in the pits.
"Everyone remembers this edition. The 908 HDi FAP dropped one after the other and we were ourselves alone with the three Audi R15. We had a transmission problem during the night and since that time, we had turned into "full attack" mode. After the big stint of Nicolas, Loïc began to beat the lap record on lap record. This has created a real excitement, though pushed to the public by the Bruno Vandestick voice.
"We started to believe in the podium or even second place. Loïc was flying, and over the wall, there was never any doubt: there were no other instructions than to attack the most. "Push, push, push …" It was a moment of madness! Did it already happened to me in the Le Mans 24 hours? I don't think so. We were the outsiders and we had nothing to lose. And then, there was this terrible image, which happened just at the same time as Loïc told us to hear a strange noise. And the car comes to stop at Arnage with our driver who seemed completely wiped out. In a split second, we've all turned from an insane hope to utter despair. It was a hard moment because we really believed in it. Fortunately, Oliver was there to comfort me…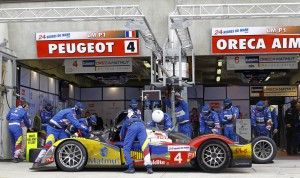 "In parallel, the ORECA 01 did a good race even if it had not been spared too. But Soheil Ayari, Didier André and Andy Meyrick finished fourth: first private, first petrol and first behind three Audi. I still remember that Andy was crying in the truck. It was his first Le Mans and he did a good job next to the two experienced drivers. I think he never imagined to end at this rank, which was a really great result. This confirmed the quality of the ORECA 01… but I admit, this had not blurred the disappointment of the Peugeot drop.
"After the checkered flag, I realized that the team had done "something". We were at the same level as the other Peugeot, even faster on a lap. We competed with the Audi and we fought until the end. We had fallen, but the weapons in hand. In the race, I do not manage my emotions. The atmosphere of the competition excites me and I let myself be overwhelmed by emotions. I was devastated after the drop. But few hours later, this is another side of my character that had taken over, I'm always moving on. I realized that we had grown from this experience and we had marked the spirits. It may be that day that the team began to build the victory at the 12 Hours of Sebring in 2011. We did not yet know, of course, but we probably realized what we were capable of. "
Hugues de Chaunac