Le Mans Addict, Hugues de Chaunac : « In 1998, the tension was extreme ! »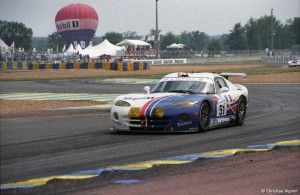 "After two participations without podium with the Viper, 1998 was a very important year. We had put lot of pressure: it was time to make the Viper win and we worked a lot during the winter. To be honest, I was quite confident until, one month before the event, I learned that Dodge-Chrysler chartered a plane to bring the entire brand board! The pressure has become at its higher level.
"In general, I don't like disappointed and it was even more true for this program with Dodge, who had trusted French. It was almost a personal matter: we must succeed. I was convinced that this would be decisive for the rest of our adventure with Dodge, and even the future of the team.
"During the race, we started carefully and it was not easy to manage. We had to go against our nature, but the race probably played here. At the middle of the race, I think we were not in the top 3, maybe not even in the top 5. And at the approach of the early morning, we began to rise gradually to eventually take the lead, and with two cars. Two hours before the finish, the tension was extreme!
"It was a mix of feelings like I rarely had. There was a certain joy to be there, to see that we were in control with our viper. And the fear that these two cars have a problem. The feeling was strange… And there were many people in the stands. I was quite unsettled because the Dodge's persons did not seem to expect to be in the lead at the Le Mans 24hours. Somehow, I was surprised to see them surprised.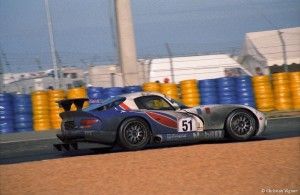 "The checkered flag was a real liberation. The joy was awesome, we were all very happy… But I was mostly relieved and exhausted. Like all the team, I had drawn too much in my strengths. Personally, it was the first time I was on the podium at Le Mans. This is the kind of moment that you would like to live in slow motion but which is finally living in fast motion as the excitement is high. Everyone come to embrace you, greet you and you do not really understand what is going on.
"I had to wait until 1999 to really enjoy this podium. The second time, we have the necessary distance. We know how things go and take more time to savor, taste this time. Particularly admire this incredible public with this exceptional and unique view of the circuit. We simply contemplate the myth.
"There was a third victory in 2000, also a special edition. We were the double title-holder and we ran three Viper. The victory was therefore mandatory. But in parallel, we had two prototypes. Here it was a really apprenticeship stage. To race with five cars in two different categories, it was also one of those things a little crazy … I think that today nobody can imagine that. It is not conceivable. It was just crazy. I would not do it again, but I'm proud ORECA has managed this with Dodge. This is one of the finest chapters in our shared history. "
Hugues de Chaunac
[nggallery id=24]