Stéphane Sarrazin creates his own team, Sarrazin Motorsport!

Multi-discipline driver who has met success both on track and in rallying, Stéphane Sarrazin has officially announced the launch of his own private team: Sarrazin Motorsport. This structure, based in the Cévennes (France) and established with leading partners, will thus rely on the French driver's great motorsport experience. The team will make its debut at the 2017 Tour de Corse (6th-9th April) with a Skoda Fabia R5 entrusted to Sarrazin. In the upcoming months, other drivers will defend the team's colours, in France and beyond.
Stéphane Sarrazin: "I really wanted to create Sarrazin Motorsport"
Go-karting, F1, prototypes, GT and rallying, Stéphane Sarrazin has taken part in many programmes in the course of his rich and successful career. As the French sportsman begins a new campaign as TOYOTA GAZOO Racing factory driver at the 24 Hours of Le Mans, and adding to his commitment in FIA Formula E with Venturi GP, he will rely on his experience at the highest level to lay the foundations of his own team.
Twice Le Mans Series champion (2007, 2010), three-time Petit Le Mans winner (2009, 2010, 2011), poleman and several times on the podium at the 24 Hours of Le Mans, Sarrazin decided that his structure would start off with rallying. A discipline that he has also excelled in: French champion (2004) and Subaru factory driver in world championship, he has achieved a double win the Critérium des Cévennes / Tour de Corse (2014) while also coming first in different challenges such as the Mont-Blanc several times; as part of projects that were already conducted privately at the time. Launching Sarrazin Motorsport seemed to be the next natural step for him.
"I'd been thinking about launching my own team for a little while already. I really wanted to create Sarrazin Motorsport and I'm glad that this wish's become a reality today" says Sarrazin. "I was waiting for the right conditions; it feels it's now time to go ahead, all lights are green. My career as a driver has allowed me to learn on different levels and aspects, not only through racing itself but also across many development programmes I've been involved in for several manufacturers and teams. My recent entries in rallying made that wish stronger, while also allowing me to discover new things because I was much more involved in the early stages of these projects, way beyond my role as a driver. It's an important moment in my career. TOYOTA GAZOO Racing's programme remains my priority, as well as the FIA Formula E with Venturi GP, but I know I'll be able to run the two in parallel and that's fantastic. 2017 promises to be a great and wonderful year."
First steps at the Tour de Corse!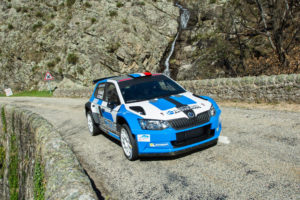 Stéphane Sarrazin has gone for rallying. The Tour de Corse, in April, will mark Sarrazin Motorsport's debut, entering a Skoda Fabia R5 in the WRC-2 class. Sarrazin will be both driver and boss before lining up other drivers in different programmes. He explains: "Starting off with the Tour de Corse is a nice nod to my career; and it shows how ambitious the team is. I've won in Corsica before, that's a very special memory to me. It's also a legendary challenge, at the highest level, and within a very competitive class. That's what the team is aiming for. Of course I wondered about racing on track vs rallying. It made more sense to go for rallying, as that's where I feel the most prepared and that completes my entries on track very well. Sarrazin Motorsport will have the expertise required, I've got great people around me and strong partners. This will allow us to support young drivers in their development and quest for victories. Yet we don't exclude racing on track at some point in the future. We're open to all options and clearly we want to develop and improve in time. We're going to grow one step at a time, wisely but with great ambitions."
Sarrazin Motorsports will be based in the Cévennes, a region which means a lot to Sarrazin. The team will benefit from two Skoda Fabia R5 in its workshops, as well as a Hyundai i20 R5. The squad will also rely on Arnaud Moutier as Technical Director. For this new adventure, the French driver will be supported by partners renowned in the world of motorsport, such as KCMG, Michelin, ORECA Store, which are all official suppliers of Sarrazin Motorsport. Further information will be communicated later on.
About KCMG Composites.
Ambitioning to provide mass production capabilities in the manufacturing of structural parts made of advanced composite materials, KCMG Composites was created in 2014. KCMG Composites is a European company with an engineering centre based in Ireland and manufacturing units located in Taiwan.
For the automotive industry, KCMG Composites develops suspension elements (triangle, brackets, etc.) aiming for weight reduction. The company also produces carbon chassis for electrical and hybrid models of leading car manufacturers.
KCMG Composites also works within the aviation sector, supplying Fly Case's lightweight panels, ULDs as well as seat parts in composite materials on board aircrafts.
About Oreca-Store.com.
French leader in multi-platform sales of equipment and accessories related to motorsport and automotive activities, not only through its catalogue, but also its website and shops, ORECA Store is also a European leader and continues to steadily develop internationally, particularly with some partnerships on the Asian market. With 18 million pages visited per year, the French website www.oreca-store.com has now been updated with an English version accessible to all at www.oreca-store.eu.
Exclusive supplier of several brands, worldwide, ORECA Store includes no less than 35,000 products to satisfy fans, amateurs and competitors. Indeed 250 leading brands are available, not only in terms of equipment or mechanics but also clothing or car and motorbike accessories.