Team 75 Motorsport places its trust in ORECA Store again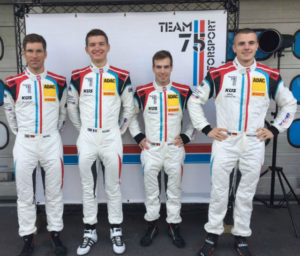 Team 75 Motorsport and ORECA Store's partnership continues in 2017. Last year, ORECA Store strengthened its presence in Germany by supporting the German team co-directed by driver Timo Bernhard and Klaus Graf. The Porsche Carrera Cup Deutschland and the ADAC GT Masters were on the agenda then. This season, Team 75 Motorsport will count on ORECA Store's support for the ADAC GT Masters as well as the VLN.
Endurance in team's sights
When announcing the 2016 program, Team Manager Klaus Graf had already mentioned the team's desire to develop towards endurance. After a successful season, with a second place in the ADAC GT Masters championship, the squad continues to move forward, with a new double programme this year. Firstly entering the ADAC GT Masters again with two Porsche 911 GT3 R; secondly in the VLN – one of the most renowned championships in Germany. Though there will be a different set of goals for each challenge, what matters to the team is to do well anyway. "Our objectives vary depending on the series. In the ADAC GT Masters we do aim for the title, following on the second place achieved last year. In the VLN, we want to show how competitive we are in the 'Cup 2' class, from the outset" Klaus Graf explains. "Yet let's not forget that this is a whole new environment for us as a team and that we need to learn about the specificities of the discipline."
Since its establishment, the team has hoped to become a leader in endurance. That is why this double programme has been put in place for 2017. "I think that in order to be at our best level, we need to enter different competitions. That way we gain knowledge and precision by discovering the specificities of each championship. The VLN and the ADAC GT Masters share one date, we will have to manage that in the best possible way" Graf says. "With the VLN we're going to gain experience in endurance. The VLN and potentially the 24 Hours of Nürburgring are major events in Germany, which we have always looked up to. With the ADAC GT Masters and the VLN we'll be racing to the best of our ability. We're now a professional team in GT and this is key."
To meet their aims and be in the lead, the team has carefully selected its drivers. Crews are now confirmed: Porsche Carrera Cup France champion and Porsche Junior driver Mathieu Jaminet, outstanding driver Michael Ammermüller, Adrien De Leener and Christopher Friedrich in the ADAC GT Masters as well as David Jahn and Marek Boeckmann in the VLN. These drivers are all coming from different backgrounds, they will bring their knowledge and skills to the table in order to take Team 75 to the highest step on the podium. "We based our choices on several aspects" Graff explains. "One of the key points was to be able to rely on the same drivers throughout the entire season. It wasn't the case last year with Kevin's different entries as a factory driver. Timo and I are also drivers ourselves, so our approach differs from that of other teams. Marek and David were part of our team last year and we're glad to continue this adventure with them. Our drivers for the GT Masters are very different and will know how to combine their skills. As demonstrated by our first test sessions in Spain: we have made great choices."
This new season, drivers will be wearing OMP clothing again, easily recognizable thanks to specific designs developed by ORECA Store. Some have opted for Stilo helmets, supplied by ORECA Store too.
Let's see what happens on March 25th for the VLN opening race.