Teemu Suninen and Team ORECA win Rally Poland after a round full of suspense!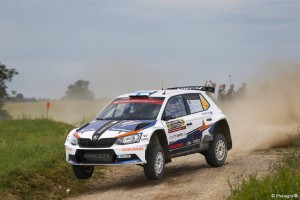 What a scenario! Following on their win at the Rally Italia Sardegna, Teemu Suninen and Mikko Markkula got successful again on board Team ORECA's Skoda Fabia R5. Having constantly battled amongst the leaders, throughout this incredibly intense Rally Poland, the Finnish duo finally won in the WRC-2 class. In the lead in the second and third stages, fighting against Tidemand's and Lappi's factory Fabia as well as Evans's factory Ford, with gaps down to tenths of a second only, the two men were ranked second as the very last day started. The member of TMG's Junior Driver Development Program and his co-driver finally took back control of the rally during the second-to-last special stage and won in WRC-2, 10th overall!
Hugues de Chaunac: "An incredible fight!"
"It's always difficult to confirm a win but, following on what happened in Sardinia, Teemu and Mikko brilliantly managed to do so in Poland. It's really a great success and the standard of their performance overall was of high quality!" ORECA's CEO Hugues de Chaunac notes. "The level in WRC-2 has been terrific throughout the whole rally. It's been an incredible round! Teemu and Mikko've had to fight their way for this first place, to defend it and then gain it back. Also, the weather conditions were quite tough on this last day. There's nothing much to say apart from Bravo! Let's head off to Finland now, that's a very important round ahead of us."
Teemu Suninen: "We were at full speed everywhere, all the time!"   
"It was a long and difficult rally. We were at full speed everywhere, all the time. We felt constantly on the edge and it's fantastic to win again" Teemu Suninen explains. "We've been involved in a great battle against Tidemand then Lappi and Evans, who are more experienced and on board factory cars. All the way throughout the weekend, we thought there was an opportunity for us to clinch a win, even this morning. The weather conditions were harsh, but we didn't make any big mistakes, we avoided obstacles and, above all, our set-ups perfectly suited this last day. It led to good driving. Everybody has done a great job. We all wanted to win and we're happy to come first in this Rally Poland, after our success in Sardinia."
A constant fight…
After Thursday evening's super special stage at Mikolajki, the serious business started on Friday with no less than nine timed tests. During the morning, Teemu delivered good performances – 4th, 2nd, 2nd, 4th – to rank second, in between Tidemand's and Lappi's factory Skoda. Gaps were rather small. The afternoon loop was even more positive for the young Flying Finn who remained within the Top 3 throughout: 3rd then 2nd in SS6 and SS7, he clinched two scratch times and took control of the rally! After the evening's super special and a crazy day fighting amongst the leading cars, just a couple of tenths away from each other, he ranked first, 4,6 seconds ahead of Lappi and 21,9 seconds of Evans.
On Saturday Teemu vigorously defended his place. Twice in fourth position, he completed the first loop clocking the second time in the thirteenth special stage, remaining the leader by more than a second. Against him, the well-experienced Lappi got in first place during the next test. Again, Teemu was excellent in the afternoon: twice second, fifth time in the second-to-last special stage of the day. Despite a puncture within the last kilometres, he got the second place at the end of that stage, about ten seconds away from Skoda's official driver and in front of Evans's factory Ford.
Comprising four special stages, the last day gave rise to fantastic new battles under tough weather conditions, as it started raining. Evans nicked the second place in SS17 but Teemu got it back with the next test, by 1,5 seconds. Everything changed in the penultimate special stage. With mud everywhere, the member of TMG's Junior Driver Development Program avoided the different pitfalls, while Lappi and Evans were each victims of a puncture. Suninen and Markkula got back in the lead and rounded off their victory in the super special stage with a fifth scratch time.
Team ORECA's WRC-2 programme will continue at the Rally Finland in July 28th-31st.