The « Driving Center » opens its doors!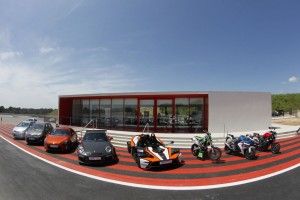 Located inside the Paul Ricard track, the "Driving Center" opened its doors this Monday. This new track "all in one", whose ORECA is the exclusive operator, offers many activities, each working independently: driving leisure with effective driving and road safety, for both cars and motorcycles.
Driving Center: "All in one"!
At the end of October, Stéphane Clair, CEO of the Paul Ricard Track and Raphael de Chaunac, CEO the ORECA Group announced the construction of the Driving Center for a launch planned for May 2013. Words had been held since the opening of this new leisure track is effective since Monday, 13th May 2013.
"I am very happy to see that the Driving Center opens its doors according to the commitments we took few months ago" explains Stéphane Clair. "The Paul Ricard Track acquires a new tool that perfectly fits with the development philosophy of "Destination Castellet". With a "F1", a "leisure" and a "karting" tracks, as well as two hotels, several restaurants and an international airport, it's a unique complex."
"All in one" in its configuration…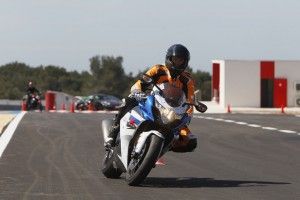 Built to the standards of the Paul Ricard track, the "Driving Center" is characterized by four distinct configurations. The main runway first, along 1,6km with for a width of 8,5m. A second solution splits the racetrack into two plots of 0,650 km and 0,850 km. The third "spec" is composed of four different modules: a core area of 3000m² that can be sprinkled, a flat area poor adhesion, a circle with a constant radius of 70m and an eco-driving area. Finally, an extension of land. All of these configurations are adjustable and for some of them usable at the same time, the "Driving Center" offers a multifunctional customizable outline according to the wishes of each other. Due to these special features, the "Driving Center" presents itself as an ideal tool for builders or manufacturers wishing to highlight their technology and know-how through "press" and/or "product" presentations.
"All in one" in its use…
Perfect complement of the "F1" racetrack of the Paul Ricard Track, the "Driving Center" offers a framework for using innovative multi-activities. Leisure through the discovery of the driving track (multi GT, first drive, sledding), free rolling with sports cars or motors roadsters for individuals but also incentives and seminars for businesses. Driving through improvement training auto and motors to learn braking techniques, trajectories, mass transfer, but also during training in super-motors through the land extension. The road safety through workshops handling and vehicle control with avoidance, loss of adhesion and anticipation for businesses, insurers and even dealers in company fleets.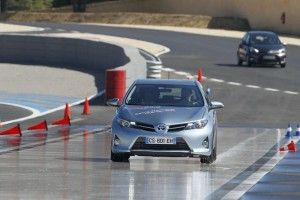 "With the Driving Center we opted for a different philosophy" says Raphaël De Chaunac. "This is not a racetrack for pure speed or competition. We want to develop leisure and road safety in it. We believe that individuals and businesses need a new kind of place to have fun, have a first taste of speed in a structured area and be aware of the dangers. The sixty dates already booked until the end of the year confirms this. The strength of the Driving Center, beyond its own characteristics, it's the new horizons that it will allow us to explore."
Information and reservation with Jean Michel Dorbe: drivingcenter@oreca.fr or 04.83.24.83.04.