The Lada Vesta TCR is ready to battle
It happened last week: Lada Sport ROSNEFT conducted their first practice session with the brand new Vesta TCR, a project in which ORECA was largely involved. This car, adapted to TCR, will begin its career in the Russian series dedicated to that class.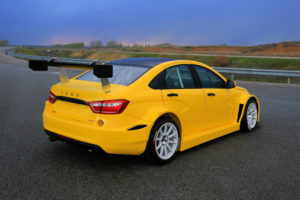 Now focused on the TCR class, Russian manufacturer Lada is about to make its debut in the Russian Circuit Racing Series. ORECA's engine department, based in Magny-Cours, was largely involved in the development of the Lada TCR which completed its first laps on AvtoVaz's track in the village of Sosnovka. 'In-house' driver Kirill Ladygin was behind the wheel for this first shakedown, checking that all systems function correctly.
The Lada Vesta TCR is a front-wheel drive with a 2l turbo engine, 350hp and a sequential gearbox, complying with TCR rules & regulations; a series aiming to be more accessible technically and economically than the WTCC itself, championship in which Lada competed in until last year (ORECA had participated in the design and development of the car then too). While some elements are based on the previous WTCC version, most of the components have been developed specifically for TCR rules & regulations.
For this new Vesta TCR, ORECA's engine department has worked on the technical aspect of the engine, including bench testing and integration to the car. The entire engine wiring harness was also designed in Magny-Cours by Serge Meyer's team which will ensure the follow-up throughout the year.
According to Lada Vesta TCR Chief Designer Alexei Sokolov, the session went perfectly well. "The new Vesta TCR was convincing on this first shakedown. No bad surprises." he said.
The first round of the Russian Championship will take place this weekend in Grozny. For this first challenge in the Chechen capital, Lada Sport ROSNEFT will enter three cars.