World RX : Team Peugeot-Hansen powered by ORECA !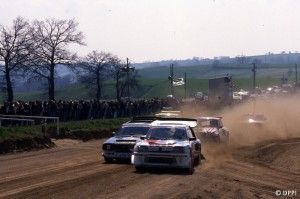 Racing in RallyCross for several seasons, both on national and continental levels, ORECA's engine department will be present once again in 2014. After two consecutive titles in the European Championship and last year's win in the French Championship, ORECA will be on the FIA World RallyCross Championship's starting grid, as an engine supplier. Peugeot-Hansen will be among the teams that ORECA is supporting and will line-up the Peugeot 208.
As the technical partner of several structures in rallycross, ORECA's engine department, based in Magny-Cours, has won everything in that discipline, especially with Hansen Mortorsport. Throughout those last seasons, the Swedish team has been twice European Champion and has won the X-Games. ORECA will therefore keep on collaborating with Kenneth Hansen's squad which will receive Peugeot Sport's support during the 2014 FIA World Rallycross Championship (World RX).
That will be an opportunity for ORECA to come back together with the Lion brand, with which the Group has had a close relationship for many years, including rallycross. Officially representing Peugeot Sport in 1988 and 1989, ORECA ended up at the top of the rankings of the French Rallycross Championship with Guy Fréquelin, then Philippe Wambergue. More recently, in a completely different track, Team ORECA won the European Le Mans Series and made history with a victory at the 12 Hours of Sebring with the Peugeot 908 HDi FAP.
« Rallycross takes on a new dimension with the worldwide label and 2014 will surely be a very important season for us » says Serge Meyer, Director of ORECA's engine department. « With an excellent work coming from IMG, the discipline has become more and more important every single year, whether it is regarding the quality of the field or the popular enthusiasm. We have built a strong partnership with Hansen Motorsport, a very competitive and experienced team with strong human values. We are very happy to keep on collaborating with them and the birth of Team Peugeot-Hansen only makes the challenge more fascinating. Taking part in such a programme, with a big manufacturer's involvement, makes us very proud. It is also a great responsibility for our engine department. We are expecting a difficult championship, with some factory efforts and renowned drivers. Actually we are also powering other teams in the World Championship, always with high objectives in mind. »
« Those last couple years ORECA has been involved a lot on a technical level, mostly regarding engines, and from our point of view, this cooperation with ORECA is one of the reasons of our success » says Kenneth Hansen, Hansen Motorsport's Team Principal. « The great team-work between us, the understanding of the needs and capacities is the key. There was no question for Hansen Motorsport : if we started out this project, it had to be with ORECA. When it comes to competition, it is not always a matter of metal, of parts and of power. Engineers able to optimize the materials we have are also needed, and that is what we have with ORECA. »
Martin Anayi, Managing Director of the FIA World Rallycross Championship for IMG Motorsport, added : « It's fantastic to enter the inaugural season of World RX with the support of ORECA and to have such a big brand behind Peugeot-Hansen. They have been hugely successful in rallycross so far, and I have no doubt that their technical expertise and professionalism will play a crucial role in Peugeot-Hansen's 2014 campaign. The four-cylinder turbo engines provided by ORECA combined with the Peugeot 208 will look spectacular on the track and will help position our sport as one of the most exciting motorsport championships on the planet. »
Le FIA World Rallycross Championship will be starting in Portugal, at Montalegre (3-4 May).