6 Hours of Shanghai: the year ends on a positive note
The final race of the year in FIA World Endurance Championship was successful for the ORECA 07, achiving a one-two-three win! Jackie Chan Racing x Jota Sport claimed the first place, their first win at home, with crew Tung/Aubry/Richelmi and their No. 38 car. The Chinese team shone throughout the weekend.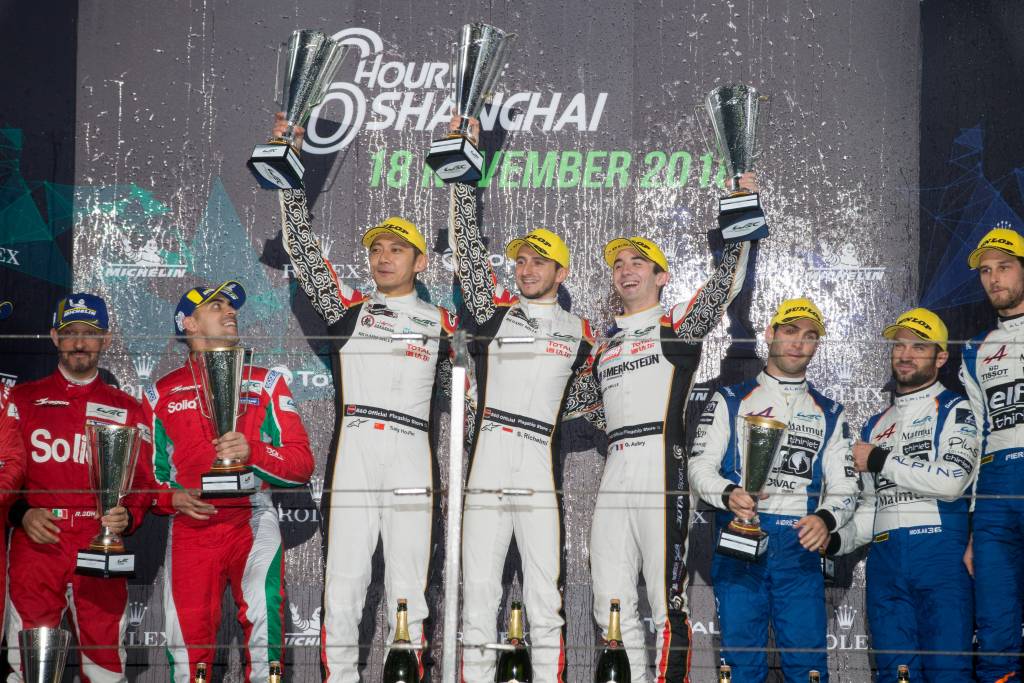 A must-win race
The 6 Hours of Shanghai usually mark the last race of the season. Though it was not the case this year because the Super Season implied a different schedule, the race still remained quite an important one as it was the last one of 2018. As Hugues de Chaunac often puts it: "It's important to shine on the last one!".
Jackie Chan DC Racing x Jota Sport faced a twofold challenge as they were racing at home. Right from the start of the weekend, the No. 38 car took leadership and claimed the pole position. The entire ORECA LM P2 delegation started from the first five rows of the grid.
Chaotic weather conditions
The race began at 11am local time on Sunday, under safety car. As it is often the case in Asia, the weather was tough on men and machines: they spent six hours on track under hellish conditions.
During the first laps the race got interrupted for over one hour because driving was simply impossible and imprudent. Alternating between red flags and safety car, contenders ended up fighting for the win during the last two hours of the race.
After an impeccable race, the No. 38 car eventually won following on fierce battling against DragonSpeed's No. 31.
TDS Racing's No. 28 car also delivered a great performance, with gentleman driver François Perrodo appearing particularly comfortable among the traffic. However the team's great work did not get rewarded unfortunately as their car got stuck in its stand in the final lap.
The chequered flag got waved and a new ORECA-only LM P2 podium was achieved by Jackie Chan DC Racing, DragonSpeed and Signatech Alpine Matmut! The No. 38 ORECA 07 is currently in the first place of the provisional ranking, just in front of the Alpine A470.
In the LM P1 class, the two Rebellion R13 cars, No. 1 and No. 3, crossed the finish line in fourth and fifth position respectively despite their high performance level – as demonstrated by the lap time posted in the qualifying session, only a few tenths of a second away from the Toyota LM P1 hybrid cars.
As for ORECA's delegation, it was important to shine for the last race of the year. Mission accomplished with a fifth win in five races. 2018 has now come to an end. We are all looking forward to the rest of the Super Season next year, particularly with the long-awaited race in Sebring! To be continued…