The Etios R4 and ASM Motorsport perform at Rally Ciudad de Granada
ASM Motorsport kicked-off competitive rallying with the FIA R4 specification rally car.
92 km stages of the Cuidad de Granada rally in Spain.
ASM Motorsport and Osian Pryce score three stage wins and finish second overall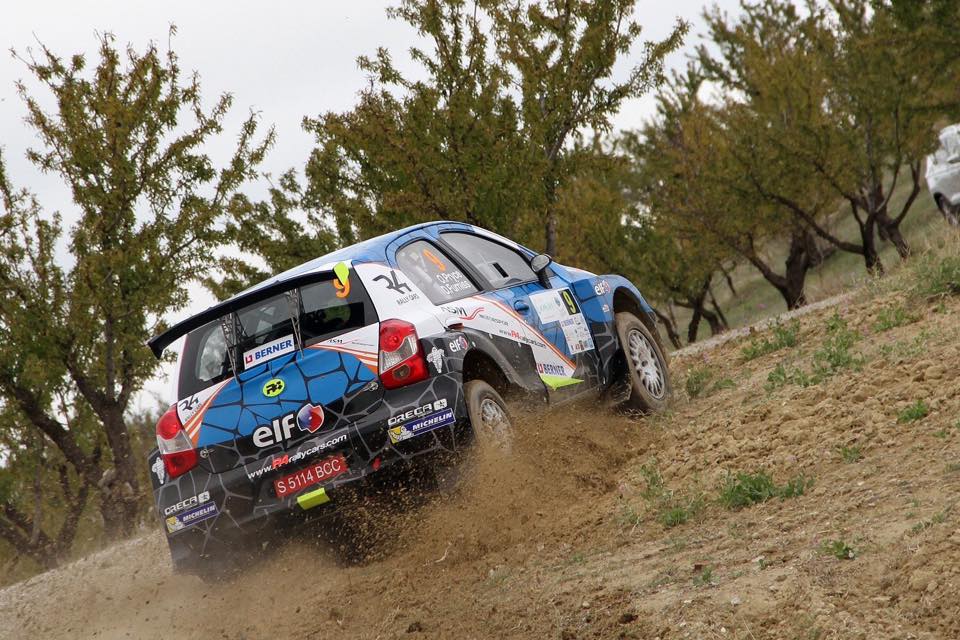 The Etios R4, prepared and ran by the Barcelona-based ASM Motorsport, via its dedicated R4 Rally Cars division, completed its scorecard in Spain by winning three stage victories of the 9 and placing second in the overall standings.
The team hired a car equipped with the R4 kit to demonstrate the operating potential and performance of this new category in real conditions facing the competition.
Osian Pryce said: "I really enjoyed driving the R4-spec car, and from a performance and results point of view I couldn't have asked for any more. We only did three runs over the shakedown stage, but straight away the car felt good and easy to drive and we made no changes whatsoever before the start. We were a little cautious over the first gravel stage, it was damp and we knew we had a job to do, but we still set the third fastest time! It dried out after that, and some of the stages had very long straights where power was a big advantage, but where we lost out in outright speed – the R4 car had a near-standard engine – we gained in the tight and twisty sections."
"I'd really like to thank ASM Motorsport and Oreca for giving me this opportunity to drive the R4 car in Spain. We made rally history together by giving the R4-spec car its world competition debut, and I'd certainly love to drive it again in the future."
Álex Sabater, CEO of ASM Motorsport, said: "The purpose of coming to the Rally Ciudad de Granada was to show that the FIA R4-spec car is a very competitive, reliable, strong and fast car – and this is exactly what we achieved. Osian did a very professional job, and gave Oreca and us a lot of very good technical feedback. With only three runs over the shakedown stage before the start, he was able to demonstrate what a good and driver friendly car the R4 is. To make three fastest stage wins, and finish second overall in a very strong field, on the R4 car's world competition debut, is an incredible achievement.
"Until today, a lot of people didn't know what to expect from the new FIA R4-spec car. But we have shown that you can jump straight into it and do well right from the very first stage. Osian's first comment was that the R4 was a very driver friendly car and easy to drive, which is one of the key design elements. Why spend a lot of money on a car that is difficult to drive, and expensive to run, when you can have an R4 car that is comfortable and easy to drive, yet still very fast and competitive? It's the perfect car for a young driver wishing to progress from a two-wheel drive car and to show his talent and for a gentleman driver who wants to really enjoy four-wheel drive rallying, without making everything very expensive, stressful and complicated. It's a fantastic concept, and we have shown to the world what R4 really is all about today. I really couldn't be more delighted with the R4 car's world competition debut. Everyone at ASM Motorsport and Oreca did a very good job, Osian drove brilliantly and we have put R4 on the world map."
Results
1. Xevi Pons/Rodrigo Sanjuan (Škoda Fabia R5/1)….57min 39.9sec
2. Osian Pryce/Dale Furniss (Etios R4/1)….+52.5sec
3. Gorka Eizmendi/Diego Sanjaun (Ford Fiesta R5/1)….+2min 2.5sec
4. Daniel Alonso/Candido Carrera (Ford Fiesta WRC/1)….+3min 23.8sec
5. Diogo Salvi/Jorge Carvalho (Škoda Fabia R5/1)….+3min 52.9sec
6. Javier Pardo/Adrian Perez (Suzuki Swift R+ N5/1)….+4min 11.5sec