A FIA R4 Kit confirmed for Argentina
The Argentinian team RC Competicion has validated the order of a FIA R4 Kit for the Argentinian market – with a broad Latin American ambition. For the team led by Javier Castro the objective is clear: to take part in the FIA Latin American rally championship – the CODASUR – in 2018, running a Toyota Etios R4 in the Rally of Argentina at the end of April.
A reference in Latin America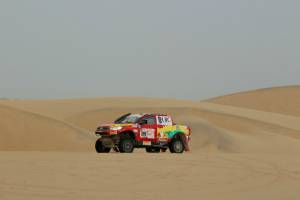 In Argentina – and in Latin America overall – RC Competicion is a reference in motorsports and particularly in rallying, with a strong presence in rally, rally-raid and rallycross. Javier Castro's structure has over ten years of experience in rally-raid, having entered the Dakar Rally multiple times with cars built and assisted by his team.
RC Competicion is also a major player in national rally in Argentina, having been the first team to run a turbo-charged Maxi Rally car, a four-wheel drive class eligible in Latin America and positioned between R3 and R5. The R4 was therefore the logical step to take, as this category is recognized in all the FIA regional championships, including the ERC.
Apart from car construction, Javier Castro is also a rally driver himself and a coach for many local young drivers.
The first R4 kit in Argentina
This R4 kit order is therefore the first one in Latin America. The Toyota Etios, a very popular platform in Argentina, is the chosen one to welcome this first Latin American R4 kit.
Following the development already done at ORECA, there is no room for doubt regarding the potential of this Etios R4 to shine in the hands of RC Competicion on home soil.
Some notes about the CODASUR: the CODASUR is the FIA regional rally championship for Latin America: Paraguay, Brazil, Argentina, Bolivia and Uruguay.